A rare trophy
Mike Burge is the bowhunter that knocked this albino buck down while bowhunting in the CWD zone this past week. He had to pass on this same buck last year because it was not legal to shoot, but this year the law was changed to allow Mike to take him. He is a true albino slob that Mike is considering having mounted full body.
He fills up the bed of Mikes S-10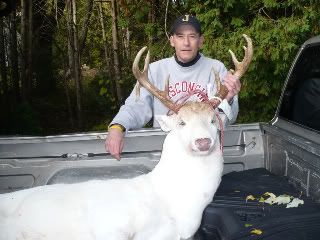 Mike said his live weight was over 300#. He has a 9 point rack with a drop tine, and tan colored hooves
Reporters have contacted Mike and his story will be appearing at least one popular magazine soon.